Back Brace Hole Template
This template is made from half inch baltic birch and is used for routing the back brace holes in the seat. It includes hole patterns for large medium and small chairs.
You need this! It allows you to machine exactly the same hole I put in my seats with my CNC router.
Years ago I modified my back brace system to allow for greater strength and movement of the back braces. In order to do this I had to cut an "oblong" hole in the seat to accommodate my back braces. The ONLY way you can achieve this shape is to own a CNC or to use this BBHT.
If you are going to put this much work into making a beautiful rocking chair it should have the best back brace action you can get!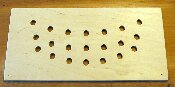 Click To Enlarge