How to Make a Hal Taylor Rocking Chair DVD set
This video was produced by Hal Taylor, Gil Grosvenor and Harley Bragg over three weeks in Hal's workshop making a rocking chair for Michelle Blanda. Hal then spent a couple months editing over 40 hours of video down to a little over 10 hours. The video is long on exquisite, close up video, of all of the operations and detailed explanations of why things are done the way they are.
Gil Grosvenor, who did all the camera work, is the past Chairman of the Board of National Geographic and the great grandson of Alexander Graham Bell. (Gil knows how to operate a camera!)
It is menu driven so you do not have to slog through hours of video to find what you are looking for. There is also a section at the end covering how to build many of the fixtures and gluing forms.
Every chair builder that has purchased it so far loves it and finds that they understand the whole process a lot better for having viewed it.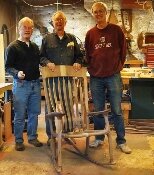 Click To Enlarge
Item #: RCU-VideoSet
Manufacturer: Hal Taylor